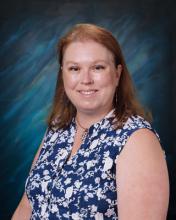 Biographical Sketch
I have been teaching second grade at TCKS since 1999. I was lucky to find a home at Traut right after finishing my masters degree in elementary education. I also hold an undergraduate degree in psychology with a minor in vocal performance. I love teaching all of the second grade core knowledge curriculum, but hold a special place in my heart for history and developing budding readers and writers.
My husband, Danny, teaches English to middle and high school students. My son is an 11th grader at Rocky and my daughter is a seventh grader at Kinard!
When I find time for hobbies, you can find me in my flower and vegetable beds at home. Nothing brings a sense of connection with nature like dirt under my nails and sweat on my brow.
What I like about Traut is
Traut offers the perfect blend of content and skills development. The children who exit our halls at the end of fifth grade are bringing with them an unparalleled educational experience. I truly feel blessed to be part of the collaborative team of colleagues and parents we have at our school. Everything I do in my classroom on a daily basis wouldn't be possible without our parent partners!
Hobbies & Interests
Gardening, spending with my children, walking my dog Scooby, and singing.
My favorite books and authors are
I LOVE children's books! Favorite authors: Patricia Polacco, Paul Goble, Demi, and many more!
Favorite Quote
It is not until you become a mother that your judgment slowly turns to compassion and understanding. Erma Bombeck
About My Classroom
Welcome to our content-rich, character-filled second grade classroom! When you walk in my room you will find a dynamic environment full of productive and engaged learners. I believe in allowing personal learning styles to be developed within a structured, predictable, and organized environment. My students love learning because I demonstrate my passion for teaching in everything that I do.