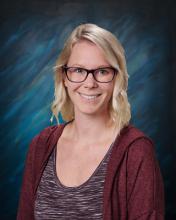 Speech-Language Pathologist
Biographical Sketch
My name is Betsy Koch, and I live in Fort Collins with my husband, Dave, and our son, David. I am currently pregnant with our second son, who will be born in January of 2020. His name will be Brooks. I am the Speech-Language Pathologist here at Traut Elementary. I attended the University of Northern Iowa and earned my bachelors degree in Communicative Disorders, then earned my masters degree from the University of Central Missouri. I love working with students of all ages and being able to provide them with functional communication skills to help them be successful.
What I like about Traut is
I love working at Traut because of the dedicated staff and parents, who serve as strong advocates for their students/children.