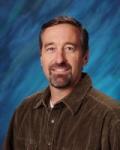 What I like about Traut is...:
Traut Core Knowledge School has an amazing curriculum, that is explored by fantastic students, supported by wonderful Parent Partners, and taught by engaged, caring staff. It's a privilege to teach here!
Hobbies & Interests include...:
Fly-fishing, camping, hiking, and a good burger!
My favorite books and authors are...:
The Tale of Despereaux and all works by Kate DiCamillo.
If you want to learn and laugh (which is important!), look for books by Jon Scieszka and Lane Smith.
Favorite Quote:
"Life is either an adventure or nothing." Helen Keller
"I like well to be in the company of explorers." J.M. Barrie (author of Peter Pan)