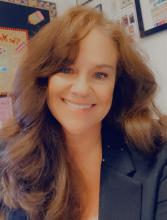 Biographical Sketch
I began teaching in Poudre School District in 1995 and at Washington/Traut Core Knowledge in 1996. Prior to teaching here, I taught at Linton Elementary, Timnath Elementary, and Colorado State University Early Childhood Center. I received my Bachelor of Science Degree from Colorado State University as a child specialist. I continued to Graduate School to obtain my Licensure in Elementary Education at the University of Northern Colorado in Greeley. In the spring of 2005, I completed my Master of Arts in Teaching through Grand Canyon University in Arizona.
My husband and I have two children named Victoria (Tori) and Adam. Tori is twenty-two and works in advertizing and graphic design in Phoenix, AZ. Adam is nineteen and a freshman at the Univeristy of Oklahoma studying engineering. Our family also includes Porscha, our tri-colored corgi, Bentley, our Great Pyrenees/Siberian Husky mix, Zeus & Athena, - our barn cats, and several chickens and ducks (for eggs of course). We own a small, 15-acre ranch just east of Fort Collins near Severance, CO.
What I like about Traut is
The strong sense of community, our highly experienced staff, the commitment of our TCKS families, and our 5 pillars: Core Knowledge curriculum, character education, student responsibility, parent partnership, and mature literacy.
Hobbies & Interests
I love to be outdoors. I enjoy rollerblading, biking, water skiing, hiking, paddle boarding, boating, traveling, and spending time with my family and friends. I love watching movies or country dancing with my husband when we aren't enjoying the great outdoors.
Favorite Quote
"What we instill in our children will be the foundation upon which they build their future." Steve Maraboli
"Reading Is To The Mind, As Exercise Is To The Body." – Brian Tracy
"Education is the most powerful weapon which you can use to change the world."
Nelson Mandela
"You can teach a student a lesson for a day; but if you can teach him to learn by creating curiosity, he will continue the learning process as long as he lives."
Clay P. Bedford
A person who never made a mistake never tried anything new. --Albert Einstein
About My Classroom
Our classroom is a safe, nurturing environment where students are expected to do their best, learn from their mistakes, to cooperate and be helpful to others, and to cultivate a love for learning.