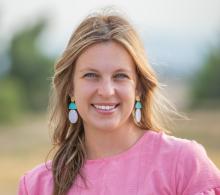 Biographical Sketch
I grew up in Fort Collins, attending PSD schools. I graduated from RMHS in my junior year and I knew I had to get over to UNC and work to become a teacher just like the many that inspired me as a child. I took accelerated classes in the summer so that I could get back into schools working with students and doing what I was passionate about! I graduated with a degree in Elementary Education with a concentration in multicultural studies. I got my first teaching job where I attended elementary school here in PSD! My time at UNC was so inspiring, I went right back for my masters. My master is in Culturally and Linguistically Diverse Education. I have enjoyed expanding my teaching by taking courses and staying up to date in best practice and strategies!
My husband, Mitchell, and I met in high school and have enjoyed building our life here in Northern Colorado together. We have one daughter together, Adelaide Jane! Becoming a mom has made me a more empathetic and passionate teacher. She has been a joy to watch grow and teaches me so much! We also have 2 dogs, Jasper and Chester. We enjoy spending time together, usually we are out in the beautiful natural areas or patios around Northern Colorado. I also enjoy photography and finding ways to use my creativity!
What I like about Traut is
I have always loved the community that makes Traut so special. I feel so blessed to be apart of it! Everyone has been so welcoming and I am so grateful for that. Traut has always been a place that engages and cares for their learners, families and staff members and I am excited to partner with this community.
Hobbies & Interests
Teaching

My family

Cooking

Paddle Boarding

Photography

Reading

Shopping Target
My favorite books and authors are
My favorite children's book is Stand Tall Molly Lou Melon. I love the message for my students and it is always an inspiring book to read aloud. I really enjoy reading to my students and sharing the joy of reading with them.
Favorite Quote
"By doing what you love, you inspire and awaken the heart of others"
About My Classroom
My classroom is a space for students to grow in their learning. I encourage confidence, kindness and creativity to create a class of lifelong learners. Our space will always be welcoming and supportive of all learners! We are scientists, thinkers, readers, authors, leaders, explorers. mathematicians, creators, friends. We are a classroom family!
Courses Taught
In the past, I have taught kindergarten as well as early childhood. I am excited to teach first grade!