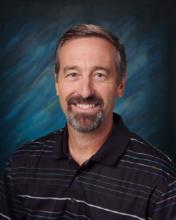 Biographical Sketch
After graduating from James Madison University in the scenic Shenandoah Mountains of Virginia, I served for 10 years in the U.S. Army as an infantry officer and a logistics officer, including a tour of duty in Somalia with the 10th Mountain Division. While in the Army, our family enjoyed several wonderful areas of our country, including Hawaii, Virginia, Georgia, and upstate New York. We then moved to the Panhandle of Texas and dedicated 2½ years as house-parents to Cal Farley's Boys Ranch, a community for at-risk teens. After earning my teaching certificate at West Texas A&M University, I began teaching 2nd grade in Amarillo, Texas. I've looked forward to August and Mondays ever since! Soon after arriving at Traut in 2007, I earned my master's degree in education at Colorado University - Boulder.
My wonderful wife, Kathy, and I have been married for 35+ years! We have four amazing sons married to our four beautiful daughters-in-law, and six fantastic grandkids! Kathy loves teaching English to her international friends at the Immigrant and Refugee Center in Greeley. Kathy and I enjoy exploring the hiking trails and trout streams here on the Front Range with our dogs, Miga and Sodo.
What I like about Traut is
Traut Core Knowledge School has an amazing curriculum, that is explored by fantastic students, supported by wonderful Parent Partners, and taught by engaged, caring staff. It's a privilege to teach here!
Hobbies & Interests
Fly-fishing, camping, hiking, and a good burger!
My favorite books and authors are
Peter and the Starcatchers by Dave Berry & Ridley Pearson (the amazing prequel to Peter Pan)
The Tale of Despereaux and all works by Kate DiCamillo.
If you want to learn and laugh (which is important!), look for books by Jon Scieszka and Lane Smith.
Favorite Quote
"Life is either an adventure or nothing." Helen Keller
"I like well to be in the company of explorers." J.M. Barrie (author of Peter Pan)
About My Classroom
We are the Explorers! That's our theme and our mindset throughout the year.