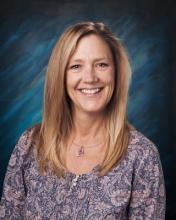 Biographical Sketch
My husband and I moved to Fort Collins from the Boulder area in 1994. We have a daughter and a son, both of whom went to Traut. We also share our home with our dog Tucker, our cat Mikey, our bearded dragon Jar Jar, and a Florida Ghost King snake called Cassi. After 11 years as an very involved parent, I was thrilled at the opportunity to become a more "permanent" member of the Traut community! Sharing the ins-and-outs of the technology that students use regularly in school today has proven to be so much fun! In the tech portion of Media, we work on everything from basic computer and keyboarding skills, to learning about the online resources our students will use for the rest of their PSD careers, and on. Additionally, we get to dive further into technology, exploring things like basic coding, and video creation and editing- even using a green screen! What our kids can do with these enrichments is just amazing. I'm grateful to be a part of it.
What I like about Traut is
From the Core Knowledge Sequence, to the Parent Partnership, to the amazing staff, to the unique governance, Traut Core Knowledge School is a very special place! The Traut community is truly like a family.
Hobbies & Interests
When we're not in school, the Morris clan might be found skiing, biking, and camping. Anything outdoors is great with us!