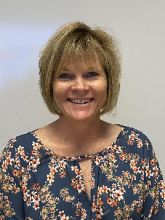 Biographical Sketch
My husband Kevin and I are the proud parents of three Traut alumni- all daughters and all grown up. Two of our girls live close by and one is in Arizona. We expanded our family with two son-in-laws in the last three years and will welcome our first grand child this year! We have three mini dachshunds at home, Oscar, Frankie, and Gretchen, that are a constant source of entertainment and fun.
I have been teaching at Traut since we opened in 1993. I have taught 2nd grade, kindergarten, and 1st grade. It is my pleasure to begin serving Traut as the Intervention and Assessment Coordinator this year. I will still get to work with small groups of students and support our staff with intervention, progress monitoring, and data tracking K-5th grade. I am very excited and hope to continue to serve the school to the best of my ability in this role. I am looking forward to another great year!
What I like about Traut is
This has been my work home for 28 years so I obviously like a lot of things about Traut. The entire staff is dedicated, knowledgeable, and focused on delivering the best education for our students. The parents are supportive and looking for the best outcomes for the school. Our students come prepared to learn and grow academically and socially. We get new faces every year, but the commitment is still here and the drive to make Traut a great place to learn is apparent and preserved.
Hobbies & Interests
I enjoy camping, running, hiking, reading, yoga, dogs, and kayaking with my family. Besides our own 3 dogs, our daughters have 4 dogs amongst them so we have a lot of dog time and fun. Roxy, Sadie, Hadley, and the newest puppy, Beau, make up our "granddogs"! We bought a travel trailer last year so we have spent a lot of time in our native state of Wyoming exploring the beautiful mountains and lakes. We love taking out our kayaks on quiet mountain lakes and exploring new places (with and without the dogs!).
My favorite books and authors are
My favorite type of books are mysteries and historical fiction. My favorite children's author is Cynthia Rylant; her book, The Old Woman Who Named Things, is one of my favorite stories to share with students.
Favorite Quote
Look deep into nature, and then you will understand everything better.
Albert Einstein