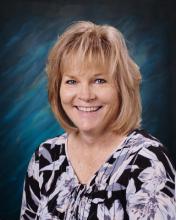 Biographical Sketch
This is my 17th year as a 1st grade teacher. I've taught kindergarten and 2nd grade, but I definitely found my home in 1st grade. I have been a teacher at Traut since we opened in 1993 and I do not see myself teaching at any other school. Traut is a great place to work!
My husband Kevin and I are the proud parents of three Traut alumni- all daughters and all grown up. We have three mini dachshunds at home that are a constant source of entertainment and fun. I am looking forward to another great year!
What I like about Traut is
We have a wonderful staff and great leadership. Our parents are fantastic supporters and volunteers. The students are very interested in learning new things. All the people that make up TCKS are our best asset!
Hobbies & Interests
I enjoy yoga, running, hiking, reading and kayaking in Wyoming with my family. We love taking out our kayaks on quiet mountain lakes and exploring new places.
My favorite books and authors are
My favorite books are mysteries and historical fiction. My favorite children's author is Cynthia Rylant.
Favorite Quote
Look deep into nature, and then you will understand everything better.
Albert Einstein