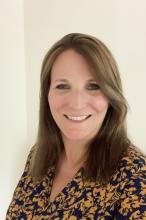 Biographical Sketch
I'm originally from Ridgewood, New Jersey and graduated from Colorado State University with a fine arts degree. After several years in Texas and Ohio, my husband and I made the decision to relocate to Fort Collins so I can enjoy time with my mother. I have two daughters, one currently attending Oregon State University, and the other just began her second year of teaching in North Carolina! I have over 18 years as a marketing professional and just over thirteen years ago I made the life changing decision to become an educator. I have a desire to positively impact children's lives and I am passionate about contributing something meaningful to our community and the world.
Hobbies & Interests
I love riding my bike, going to museums, hiking, reading, gardening and walking my dog!
My favorite books and authors are
My favorite books are from the Harry Potter series by J.K. Rowling. Harry Potter and the Goblet of Fire is at the top of that series. Generally speaking, I am drawn to historical fictions.
Favorite Quote
"The one thing you have that nobody else has is you. Your voice, your mind, your story, your vision. So write and draw and build and play and dance and live as only you can."
-Neil Gaiman
About My Classroom
Art is one of the first forms of documentation, communication and expression. It is a universal language that connects us and is a fascinating exploration of personal experiences, culture and emotions. The art room is an inclusive and safe space where all students, no matter their ability, will be inspired to express themselves by exploring a variety of mediums while growing their knowledge of art through the examination of art and artists from the past and present.