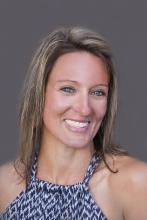 Biographical Sketch
I grew up in Minnesota, and made my journey out west in 1997 to play basketball for the CSU Rams. After graduating with a degree in Human Development and Family Studies, I traded playing professionally over seas in for teaching and coaching, and have never looked back! I have a master's degree in Elementary Education from the University of Colorado Denver with a concentration in mathematics, and have spent the last 20 years in PSD teaching 4th, 5th, and 6th graders at Laurel, Zach, Bethke, and Kinard, with an 8 year stint teaching middle school math at Preston while our 4 kiddos were young. I love 10 and 11 year-olds and am thrilled to be teaching 5th graders at Traut!
What I like about Traut is
I love all things Core Knowledge and have been so lucky to spend the majority of my career teaching the Core Knowledge curriculum. Traut's dedication to Core Knowledge, commitment to character, and incredible parent partnerships make it a unique, beautiful place to grow!
Hobbies & Interests
I love the Colorado outdoors, especially when it's with my four kids and their friends! We love to mountain bike, hike, paddle board, ski, and took up pick-up pond hockey last year and loved it! I also coach and run basketball trainings for athletes, which still makes my heart as happy as it did 25 years ago!
My favorite books and authors are
Gary Paulsen ignited my passion for reading when I was a fifth-grader. Hatchet and Dogsong are still two of my all-time favorite books! I also love C. S. Lewis's Chronicles of Narnia, in addition to his many non-fiction books.
Favorite Quote
"We are stronger together than we are alone." - Walter Payton
About My Classroom
An athlete at heart, I love the pursuit of excellence, and believe that anything is possible with hard work, determination, and perseverance. While the bar is set high in our classroom, rigor can't flourish without the foundation of relationship. I truly believe that when kids know they are loved, when they feel safe to make mistakes, and when they feel like their unique individual giftings are honored and respected, learning happens and lifelong relationships form.
Courses Taught
I have taught 4th, 5th, and 6th grade (all subjects) and middle school math.