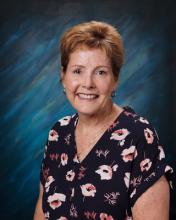 Biographical Sketch
I began teaching 5th Grade at Traut (then Washington) Core Knowledge School in 1997. My two daughters, Kaitie and Kelli, are Traut alumni.
My educational background includes a BA in Zoology from University of California, Santa Barbara. Teaching classes to zoo camp kids while working at the Santa Barbara Zoo gave me the teaching bug and back to school I went. I obtained my elementary education certification from California Lutheran University and have been teaching since 1990. I have always taught 5th grade because I believe my students are the perfect age: they are curious, fearless with technology, witty, incredibly capable and willing, and have a great sense of humor.
What I like about Traut is
I love Traut because of the Core Knowledge curriculum, my belief in our five pillars, and the amazing people I work with, including students, parents, and colleagues. The rich curriculum provides so many opportunities to be creative, integrating subjects and really immersing ourselves in what we're learning.
Hobbies & Interests
I enjoy traveling, scuba diving, paddle boarding, skiing, hiking, spending time with family and friends, watching movies, and curling up with a good book.
My favorite books and authors are
There are just too many to name! I love good action suspense novels, mysteries, historical fiction (especially Civil War and World War II era), and an occasional 'beach read'. I always have about three books on my nightstand and way too many on my nook or library app.
Favorite Quote
"Life is an occasion; rise to it."
"Our greatest glory is not in never failing, but in getting up every time we do."
"All that you do, do with your might. Things done by halves are not done right."
About My Classroom
Our classroom is a fun place to learn. We have a positive and engaging atmosphere where all learners are encouraged to do their best, feed their curiosity, be responsible for their learning, help others, and enjoy gaining knowledge and skills.
Courses Taught
Each 5th grade teacher has a self-contained classroom.