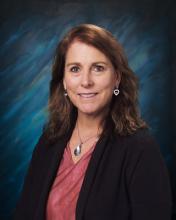 Assessment & Intervention
Biographical Sketch
I am a native of Colorado. I grew up in Greeley then went to CSU to get my Masters in Audiology. I met my husband at CSU and we raised four boys. I started working at Traut in the media center part time while three of my sons were attending Traut, in 2006. When I was hired as an interventionist, I discovered my passion for helping struggling readers. In 2019 I became a Certified Academic Language Therapist , with a focus on Dyslexia.
What I like about Traut is
My husband and I were drawn to Traut as parents because of the sequence and intensity that the core knowledge curriculum provides.
Hobbies & Interests
I enjoy spinning, swimming, hiking, reading, and spending time with my family and friends.
My favorite books and authors are
Overcoming Dyslexia by Sally Shaywitz
The Dyslexic Empowerment Plan by Ben Foss
Reader, Come Home by MaryAnne Wolfe
Favorite Quote
Success is not final, failure is not fatal; it is the courage to continue that counts. Winston Churchill