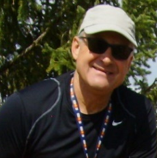 Physical Education Teacher
Biographical Sketch
The gym is the biggest classroom in the building and even then it can barely contain all the learning that happens here! This is the place where we enjoy sharpening our physical skills, fine-tuning our fitness, and developing confidence in our social, emotional, and cognitive lives. Our goal in PE is to have fun while developing these important skills and creating the habits of a lifetime of enjoyable physical activity!
https://sites.google.com/site/psdpecommunityconnection/home "Fitness and Form FUNdamentals" with PE/sport form videos, exercise routines, etc.
https://sites.google.com/site/academicsinaction/ with easy reading, writing, and math reinforcement activities using PSD specific learning goals and content
Links to the assessment rubrics, PSDPE Community Connection website, and the Academics in Action website are on the PSDPE wikispace at http://psdpe.wikispaces.com
What I like about Traut is
Where do I begin? I love the appreciation, kindness, and respect shown for others at this school. We have such a rich diversity of cultural backgrounds at Traut. Watching students, teachers, staff, and parents learning from, and appreciating each other is one of the great joys of my life. If we are a microcosm of the world, then I have great hope for the future of the world!
Hobbies & Interests
Again, where do I begin? I'm interested in everything! There is not a single thing in this world that is not absolutely fascinating if we would just take the time to study it. I love playing music (guitar, mandolin, banjo, bass, harmonica, piano, etc.), all sports (tennis, soccer, basketball, football, baseball, Frisbee, track and field, gymnastics, martial arts, etc.), and physical activities (hiking, biking, skiing, snowboarding, skate-boarding, sailboarding, surfing, kayaking, canoeing, rafting, jogging, walking, running, fishing, etc.), all visual arts (painting, drawing, ceramics, sculpture, batiking, tie-dyeing, printing, etc.), studying all history, all science, all math, all language arts, basically all subjects!
My favorite books and authors are
Once again, where to begin? The earliest books I can remember reading independently were the "Mr. Bass' Planetoid" series. These books were so richly written that I can still picture his planetoid in my imagination 43 years later! Next, I became absolutely entranced with biographies and learned about everyone from sports heroes, to scientists and inventors, and then on to political figures from all over the world. This obsession continues even today! From the Narnia books, Lord of the Rings, to Bible stories, mythology of cultures and tribes all over the world, etc., my love of reading extends to anything that is well-written. Authors? Don't get me started! I'm so intrigued by different authors that I even love reading the biographies of famous authors like Sigmund Freud, F. Scott Fitzgerald, James Joyce, and Jack Kerouac.
Favorite Quote
"Do unto others as you would have them do unto you."