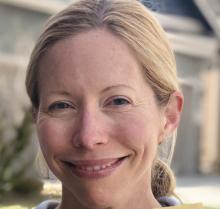 Biographical Sketch
I am grateful to be a Wolverine! I see how the past twenty-two years of being an educator have led me to laying a foundation in my teaching experiences connecting to the four pillars of Parent Partnership, Student Responsibility, Mature Literacy, and Character Education. I care greatly about fostering and modeling strong positive character traits and cannot wait to see the way that our third graders shine in their character! Additionally, I am an appreciative parent of two daughters who have experiences with Core Knowledge, and as they entered middle school, I became very intrigued with Core Knowledge and began learning all that I could about its impressive sequence and strengths and am so grateful to be part of this educational excellence! I am thankful to be part of this beautiful learning community. Being at Traut is a dream come true for me, and I am ready to flourish here each day with you.
What I like about Traut is
I greatly appreciate the warmth and kindness that is palpable at Traut. The focus on positive character traits at Traut is incredibly important to me. The rich content that is embedded in all learning experiences is absolutely another part of why I like Traut.
Hobbies & Interests
I am grateful for time to read inspiring books while sitting on my back porch watching amazing birds, for paddle boarding adventures, for time caring for the flowers and gardens in our yard, and for time to play and snuggle a great deal with our sweet Maltzu, Toby. Dearest to my heart, though, is having special time together with my two beautiful daughters and my incredible husband.
My favorite books and authors are
The main collection that we have at home is books! My favorites range from the Harry Potter series to picture books like the Llama Llama series and especially To Kill a Mockingbird by Harper Lee and historical fiction, such as The Hiding Place by Corrie ten Boom. Every morning my day begins with a devotional time with reading while I eat breakfast and my day ends with trying to hold my eyes open to continue the latest book that has been residing on my nightstand. Having time to read is a gift I am grateful for and cherish. The books that I have read throughout my life have shaped me in countless ways.
Favorite Quote
"Write it on your heart that every day is the best day in the year." -Ralph Waldo Emerson
About My Classroom
Our classroom is full of love, music, movement, and joy! I have high expectations for my students and am very committed to supporting every student as they grow as a responsible learner. Teaching is my calling, and I am enthusiastic about working with students and families and helping in every way to make our time together abundant in kindness and learning. Our classroom is one in which we are delighted when classmates say words of appreciation to each other for kindness or other helpful choices demonstrated. We build each other up and work together as we grow our minds and hearts throughout the school year.