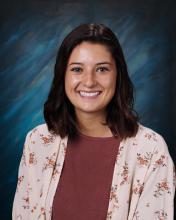 Biographical Sketch
Hello! Welcome to Miss Thiebaut's first grade classroom!
My name is Miss Thiebaut (pronounced like Tebow). This is my third year as a 1st grade teacher at Traut. I feel truly blessed to be employed in a career I'm passionate about.
I am currently enrolled in a High Incidence Special Education master's program and will graduate in May 2021.
What I like about Traut is
Traut's five pillars truly show why students at Traut Core Knowledge School are SO successful. I've spent time at Traut for many years and have created lifelong relationships with staff, families, and students. I love that the core knowledge curriculum allows for flexibility and creativity. Students are eager to engage and take charge of their learning at Traut! It is a blessing to call Traut my home!
Hobbies & Interests
I enjoy outdoor activities, camping, hiking, listening to live music, traveling, shopping, watching hockey, and spending time with family, friends, and my Springer Spaniel, Nya. She is more like my daughter than she is my dog.