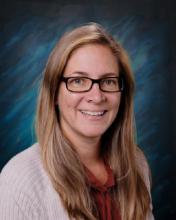 Media Technology Assistant
Biographical Sketch
I was born in Chicago and lived in Michigan, Massachusetts, Pennsylvania, New Jersey, and Tennessee before settling in Colorado after graduating from Penn State in 1991. I met my husband while working and living in Vail and we have two beautiful, smart, artistic daughters who attended Traut and will graduate from Rocky and Collins in 2020.
What I like about Traut is
There is so much to love about Traut, from the Core Knowledge curriculum, to the fantastic teachers and staff, but my favorite things about the school are the amazing students and parent volunteers.
Hobbies & Interests
I love to be outdoors, so I am happiest camping, hiking, snowshoeing, paddle-boarding, or gardening. We are a family of dog-lovers and have been fostering dogs and puppies for Bounce Animal Rescue for almost 6 years.
My favorite books and authors are
Too many to mention here, but follow me on Goodreads to see my favorites!
About My Classroom
The 2019-2010 school year is my 9th year at TCKS and I have the privilege of assisting in the library with Traut students in Kindergarten through 3rd grade.